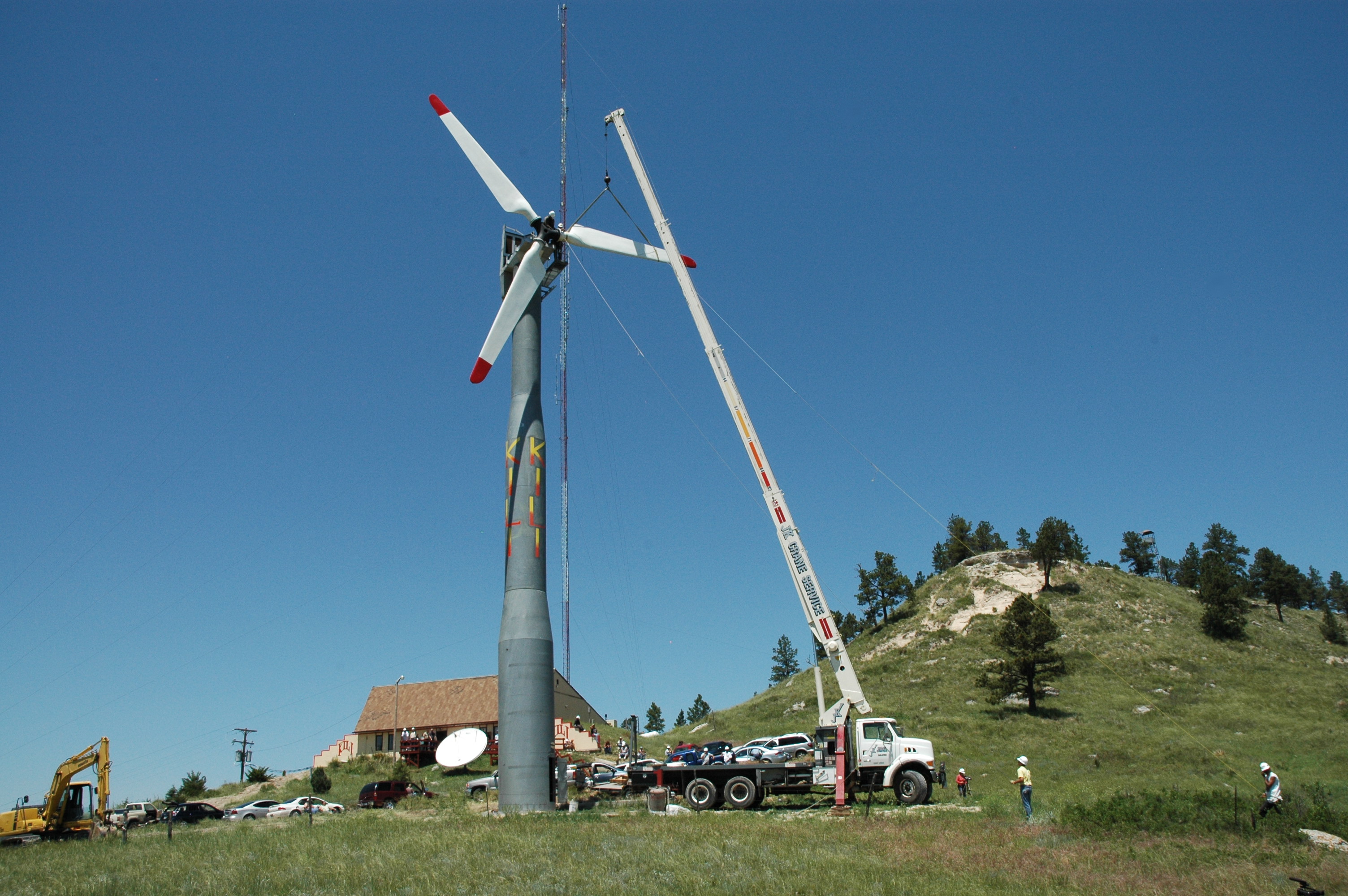 By Ryan Woodard, Journal staff
PORCUPINE - The Pine Ridge Indian Reservation's first large-scale wind turbine was installed near KILI Radio this week, and Pat Spears hopes it is not the last. Spears, president of the Intertribal Council on Utility Policy, said the turbine is only one of many he hopes will be built on the Pine Ridge and other reservations.
"We hope it's going to be a model for other community wind projects, for other community tribal facilities," he said.
Spears said residents seem enthused about the possibility of reining in the area's gusty winds for energy use.
"People really understand the environmental benefits of wind, and they want clean energy," Spears said. "They want a way to harness the power that's here, blowing by every day."
The turbine, capable of generating as much as 65 kilowatt hours of electricity, was completed Wednesday afternoon on a small hill near the well-known tribal radio station.
Crews from the Intertribal Council and Matney-Frantz Engineering, out of Bozeman, Mont., used a crane to place a Nordtank turbine and three blades atop a 300-foot tower as a large group of onlookers watched intently.
Many of those onlookers were tribal members looking to work in the wind industry, as was the case with Sinte Gleska University building-trade student Elmer Blue Thunder.
"I'm interested in the whole process," Blue Thunder said as he watched from
the deck of the radio station.
Blue Thunder said he had discussed job possibilities with Matney-Frantz. He hopes to join the Montana crews after graduation and then come back to Pine Ridge if and when the use of wind power becomes more prevalent there.
Spears said the council, an organization out of Fort Pierre that works on energy issues with a number of reservations, is hoping to arrange the construction of enough turbines within the next two years to provide a total of 400 kilowatt hours of power on eight reservations.
The turbine structure at KILI, built at a cost of $150,000, was funded by the Office of Indian Energy and Economic Development, the "Honor the Earth"charity organization, NativeEnergy and other sources.
The project began in 2002, when an anemometer was placed near KILI to measure the wind potential. The device determined the best placement for the turbine.
According to information provided by the KILI station, the turbine is expected to provide about 92,000 kilowatt hours of power each year, which KILI officials hope will save the station about $12,000 per year in
electricity bills.
Any power that is not used by the station will be sold back to local electrical provider LaCreek Electric and eventually be used by residents.
KILI station manager Melanie Janis said Thursday she is happy to see the six-year project come to fruition.
"I keep going out there and looking at it, thinking, 'Oh my gosh, it's actually here,'" she said.
Contact Ryan Woodard at 394-8412 or
ryan.woodard@rapidcityjournal.com